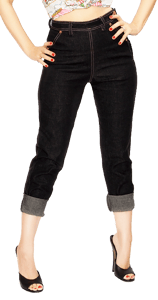 $

150.00
Have you been looking for a high-waisted pair of slim fitting jeans that are both comfortable AND flattering?
Look no more - you have been searching for the Belle jeans... and you've found them!
Made of a light-weight stretch cotton/elastane mix, the Belle blue jeans are chock full of flattering features.
Copper is the highlight colour of the Belles; the rivets on the pockets are copper, the stitching is copper coloured and the button is copper.
The two back pockets are both situated nice and high, avoiding that 'too low = big bum' look that far too many jeans are guilty of.
The leg length is on the shorter side, giving them a carefree capri feel. Maybe that is why they make me think of Grace Kelly and Audrey Hepburn...
Size
A size - W66cm H91cm
B size - W71cm H96cm
C size - W76cm H101cm
The Belle jeans are available in other sizes, so please contact us if you would like to have a pair ordered in for you.