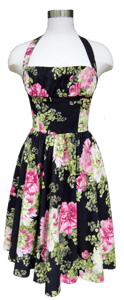 $

160.00
A fun and flirty dress, the Frenchie Halter dress by Bernie Dexter is a brilliant combination of features.
The bustline is elasticated and gathered, with a band of material running underneath this section for a little extra support, which then joins up with the halter straps, giving the illusion of a continuous ribbon of material.
The 100% cotton material is of a black background with pink & fuchsia and cream & green peony roses with sprigs of green maidenhair fern.
A lovely full skirt, with hidden sideseam pockets, the dress is just on knee length and has a long back zipper opening.
Made in the USA.
Sizes:
A size - SOLD OUT
B size - SOLD OUT
C size - B96.5cm W76cm
D size - B101.5cm W81cm
Please note: the manufacturer, Bernie Dexter, has decided to discontinue this dress so we cannot reorder. What we have left is all that is left...