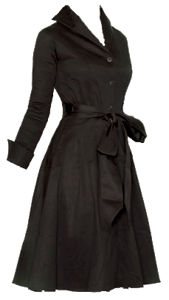 $

150.00
How fabulous is this coat!?!
Able to be worn as either a button through dress or a swish coat, The Henrietta is one versatile piece.
It comes with a beautifully long sash tie, it has a stand up collar and pointed cuffs and is made of a crisp cotton.
Add a petticoat to this little number and va-va-voom... scenes reminiscent of Christian Dior's New Look - but without the need for waist-cinching corsetry.
Made in the USA.
Size:
A size - B81cm W60cm H87cm
B size - B89cm W66cm H91cm
C size - SOLD OUT
D size - SOLD OUT
The manufacturer has now discontinued this item, so we sadly won't be restocking.